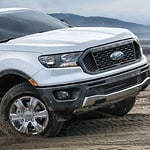 The very popular Ford Ranger was designed to last. This truck has been tested on many different terrains to ensure you have a smooth ride every time. If you have a load to carry, your new Ford Ranger will allow you to tow up to 7,500 pounds to your destination with ease.
In addition to that, your new vehicle will save you more money in gas than any other midsize pickup in America. When you come to a stop, your engine will shut off and then restart as you press the gas peddle, saving you gas. How cool is that?
Starting at just $24,300, you will be getting a very high quality truck for a very affordable price. All you have to do is come down to Lithia Ford Lincoln of Roseburg today to get started. We look forward to helping you to become the owner of America's favorite pickup.