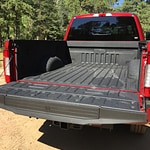 You will need a heavy duty truck if you are interested in towing and hauling things. The 2020 Ford Super Duty is a great option if you are in need of a heavy-duty truck. It is built Ford tough and made out of military grade aluminum alloy. There are also several features that will make it more convenient for you to use this truck.
The 2020 Ford Super Duty has Pro Trailer Backup Assist. This feature is designed to make it easier for you to back up. You can rotate the truck in the direction that you want it to go. The Pro Trailer Backup Assist will respond accordingly.
The truck also has Ford+ Alexa. You can Ford+Alexa by connecting the mobile app. You can even use Ford+Alexa to control your Smart Home devices. If you want to try out the Ford Super Duty before you buy, then you can visit the dealership.